PLACE
North Hollywood Bank Shootout
LOCATION
North Hollywood, California, U.S.A
AUTHOR
Article and pictures, Tony Hart-Wilden
HISTORY
On February 28th 1997, the Bank of America in North Hollywood was robbed by two gunmen wearing full body armor and carrying automatic weapons. They were surrounded by 350 police officers and over a 1000 rounds of ammunition were fired as they tried to make their escape. Much of this was broadcast live on TV from an overhead news helicopter. Three civilians and nine police officers were shot, bullets destroyed 10 patrol cars. At one point officers had to requisition weapons from a local gun shop, unable to match the firepower of the 2 gunman. Eventually one of the robbers committed suicide rather then surrender, the other one was brought down by a S.W.A.T team member, and bled to death before he could receive medical attention.
I arrived at the scene of the North Hollywood Bank Shootout near Laurel Canyon and Archwood Street at 11 am on a Sunday. It's a part of Los Angeles that looks just like any other blue collar neighborhood in the city. There's several fast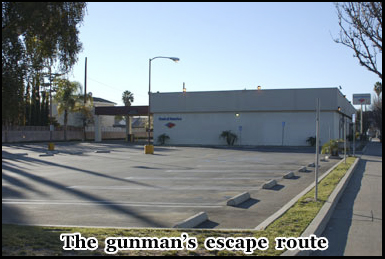 food restaurants, a run down shopping mall, a few car repair center's and a bank. What makes it different is that on February 28th 1997 this was the scene of one of the most violent robberies in U.S history and it was broadcast live on American television. I remember seeing some of the footage on the national news in England. It looked like a Hollywood movie, but it wasn't, and both robbers died in front of the cameras. I walked round to the front of the building, although most of what I had seen was of an overhead shot from a helicopter it was still quite recognizable. The Bank of America sign and the beige walls gave few clues as to what occurred here. But if you look closely you can still see the indentations of bullet holes on the side of the building and on some of the nearby shops and restaurants.
If you look out across the street you realize how dangerous it must have been for the civilian population living and working in the area at the time. There were hundreds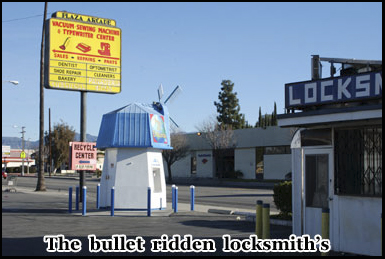 of people out shopping only a few hundred yards away, and the barrage of fire, trapped many of them inside the buildings. Opposite to where I'm standing dozens of L.A.P.D patrol cars where strung out along Laurel Canyon providing temporary cover for police officers and bystanders caught in the shoot out. Next to the main entrance helicopter footage showed one of the gunmen Emil Matasareanu, walk out of the building to a white getaway car and reach into the trunk. He then emptied the contents of a semi-automatic rifle in the direction of the police. Instead of having to re load he simply picked up another one of the high powered weapons and discharged it at the surrounding officers. I'm now standing roughly where the white car once stood looking out towards the street.
One of the unique things about the North Hollywood Bank Shootout was that both robbers were clad in full body armor, and as a result most of the rounds fired by the police simply bounced off. It was at this point the police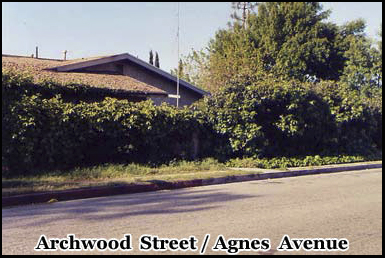 were so outgunned by the bank robbers that their only choice was to go to a nearby gun shop and obtain weapons that were capable of piercing the bullet proof armor. The robbers were eventually surrounded by over three hundred and fifty police officers. This all unfolded live on American TV, the news helicopter only backing away when one of them gunmen begin firing skyward towards it. Both robbers tried to flee across the car park at the rear of the bank into a nearby residential neighborhood. One of them drove the weapon laden getaway car. At this point the gun fight had been going on for almost half an hour. I walked about 50 yards across the car park then turned right down Archwood Street following the same path they had taken. At that time although they must of still had some hope of escape; a outer perimeter had been thrown up around them, with police cars effectively blocking their route. But they must have soon realized that their choice, was now surrender and face a lifetime in prison, or die.
A few yards down Archwood Street just before the corner of Agnes Avenue there is a gap in the fence running along the side of a house. It was here that one of the gunman came to a bloody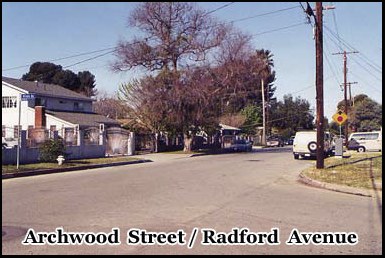 end. If you watch the TV footage, you will see that the bank robber, a man by the name of Larry Eugene Phillips Jr, has his pistol shot from his hand. He then picks up the gun, and shoots himself in the head, committing suicide, sensing that the end was inevitable. Its very strange to stand on the exact spot where such a violent event took place, and the fact that it is just a quiet suburban neighborhood makes the occurrence seem even more out of place. By this time three civilians and nine police officers had been shot and injured. After the other bank robber, Emil Matasareanu had driven further down Archwood Street just past Radford Ave he tried to abandon his getaway vehicle and high jack a pickup truck to escape. And although his body armor offered a high level of protection it also made running or walking very difficult because of its weight.
By this time S.W.A.T teams were in place and they managed to shoot at the robbers legs, which were unprotected and bring him to the ground. He was still conscious, but paramedics were unable to enter the area as it was believed that there may have been more gunmen involved. I crossed over Radford street , just before Hinds Avenue, this is where Emil Matasareanu bled to death in the middle of the road as a result of his wounds. It emerged the after the shootings that both robbers were suspected of taking part in at least three more hold-ups involving the theft of over $1.7 million.
North Hollywood Shootout – Wikipedia
News Footage Of The North Hollywood Bank Shootout – Youtube
Emil Matasareanu And Larry Eugene Phillips Jnr – Criminal Minds
The Robbery, 15 Years Later – Daily News
The North Hollywood Bank Robbery – Crime Museum
The Bank Of America – North Hollywood – Virtual Globe Trotting