5 Stars "An absolute page turner"
"One Second To Midnight is a gripping, page-turner that's filled with endless twists and turns. I was completely hooked on the book from the moment I read the first sentence and couldn't put it down. In fact, by the time I'd read the final page I was yearning for a sequel"
"Vampires, zomb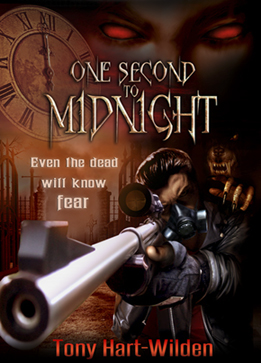 ies, things without a name…From the back alleyways of London's East End to the Hollywood Hills, the adventures of a monster-hunting cockney James Bond. At 23 years old, Michael Anderson's life was just beginning, but eleven years later he's still searching for whatever it was that murdered 17 members of his family at one second to midnight on Christmas Eve. But the hunt is over, because now it's after him. On a blood-spattered trail of retribution that takes him from Los Angeles to New York, from Stonehenge to Vlad the Impaler's Romanian castle. But will his own secret finally be revealed, one that's more lethal to "them" than any gun, something that even the dead would fear and will unleash hell itself to prevent"?
E-BOOK ONLY $0.99
"Four hundred pages of mayhem"
Available in paperback or e-book, published by Whitechapel Media.